After you have been allocated funds, to use your funds, you will need to submit a "General Requisition and Payment Order" form. You can only submit requisitions for expenses related to your journals. There must be some paper trails that show your journal's name on the invoice or receipt. If you have questions on what you can spend your funds on, contact the GSA Publications Director.
The general requisition form can be obtained from the Student Government Accounting (SGA) office at 332 Kerckhoff Hall.
Before you run over to Student Government Accounting, be sure to check their hours. SGA is typically opened from 11AM-4PM, Monday through Friday.
Many people has trouble finding 332 Kerckhoff Hall, so below is a map. From the second floor, taking the stairs (or elevator) near the Kerckhoff Coffee House, you will reach the third floor. If you do not know where the Kerckhoff Coffee House is, ask a UCLA student. Locate room 316. Continue towards that general direction and enter through the "Upstairs" lounge (the sign is above the door). (Pull the door open). Walk a little bit down the lounge and exit through the first doors to your right. (Push these doors open). From here you should be able to easily locate room 332.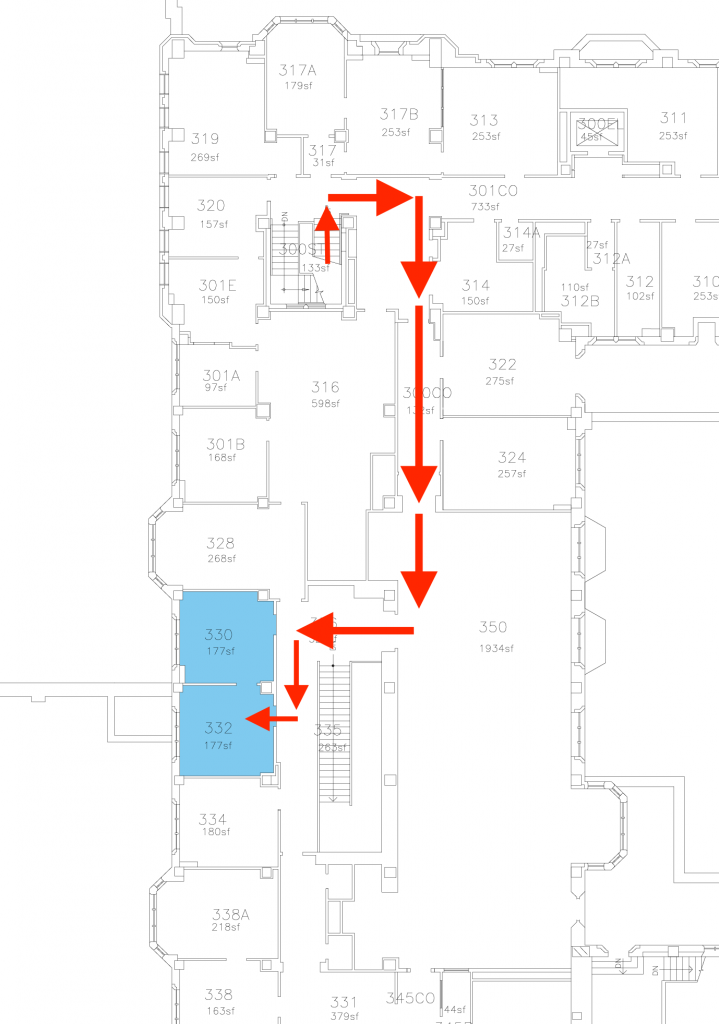 Ask the staff at SGA for a general requisition form. You must fill out and sign a physical copy of the requisition form (in triplicate); please do not fill out the requisition form electronically.
As you fill this form out, you may be asking yourself: what are my department numbers? and other various questions. Most of these questions can be answered if you look them up.
Frequent Questions
What is my department number?

Go to GSA's "Financial Documents" webpage and click on the most recent weekly funding report.  The easiest thing to do is to do CTRL+F or (COMMAND+F on a Mac) and type in your student group's name. Beside your student group's name is your 4 digit department number.

Do I check Purchase Order, Reimbursement Check, Cash Advance Check, Payment of Invoice or Honorarium Payment?

Depends. For a purchase order, SGA will pay your vendor directly. After the requisition has been processed, SGA will prepare purchase order number. You will have to pick the purchase order number physically.
Reimbursement should be self explanatory.

Remember you need proof of what was purchased is related to your journal.
Receipt needs to show that there are no longer any outstanding balance.
Generally you need a credit card statement accompanied with your receipt. If you paid cash, it might be more difficult to provide proof.

We generally do not recommend cash advances because requisitions can take a while to process. But if you do choose cash advance, you must make your purchase within 2 weeks and submit your receipt to SGA within 2 weeks.
For payment of invoice, SGA requires

The invoice to shows that the invoice has not been paid.
If you are printing a book, SGA will also require

The book's table of content
The cover design

If you are printing something, SGA will require

Honorarium is used to pay for one's service. For example if you asked A_NAME to copyedit your article, A_NAME will be paid as an honorarium. SGA will write a check for them. You can choose to pick up the check or have the check mailed to them. You are also required to provide

What is my 21-digit account number?

Go to GSA's "Funding Documents" webpage and click on the most recent funding report. The easiest thing to do is to do CTRL+F or (COMMAND+F on a Mac) and type in your student group's name.
Below is an example funding report of how to read your account number.

Where do I sign?

If you are a signatory for the journal, you must physically sign the requisition form.  Sign in the "Project Director" box at the bottom of the form.

Who else needs to sign this requisition?

For journal related funds, you will need the GSA Publications Director to sign the GSA Officer box. The GSA Publications Director is located at Kerckhoff 138.  (Once the GSA Publications Director signs it, he or she will take it to get another signature, before submitting it to SGA.)

Who do I give this form to?

You should give the form to the Publications Director (currently: David Pederson). To do so, you can (1) slip the filled-out requisition form into mailbox #62 in the wall of mailboxes outside of Kerckhoff 138; or you can (2) email the Publications Director (pubs@gsa.asucla.ucla.edu) and hand over the requisition form in person.  The Publications Director will then take care of the rest of the process.
REMEMBER TO MAKE COPIES OF ALL YOUR PAPER WORK, RECEIPTS AND ANYTHING ELSE YOU PROVIDED. Things do get lost, so be prepared.